Did you know: the MetroABQ is the international headquarters of the Fractal Foundation? From their website:

"History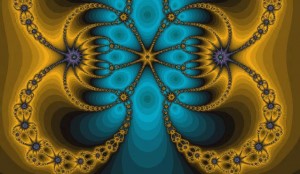 The Fractal Foundation was formed in 2003, as an outgrowth of the Albuquerque based "Chaos Club". Since then, we have taught fractals to over 69,000 children and 55,000 adults. Based in Albuquerque, most of our activities have thus far taken place in New Mexico, but they continue to spiral outward and upward…"
To the right is an amazing fractal from the website.
The top image is of a succulent called a Cobweb Hen & Chick, growing in my back yard; it looks like a small spider spun a web from leaf-to-leaf. It is comfortable in the Desert Southwest as it slowly spirals outward; a natural fractal that can be found in the middle of the city. Other fractals can be found here & here.